D-Tech International USA announced on Wednesday it has moved into a 7,000-square-foot manufacturing facility in the heart of Cape May County's new technology innovation hub.
Since opening its U.S. headquarters in Rio Grand in 2016, D-Tech has expanded nearly 100%, it said. So, when the company was asked to become an economic development partner in New Jersey's southern-most county, it jumped at the chance to increase more of its manufacturing capacity.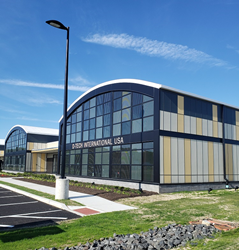 D-Tech said it already transferred all of its PBC manufacturing from China to the new facility. And with the move, it will be able to manufacture its holdIT self-service pickup locker solution.
"By bringing even more of our product manufacturing to the USA, and to Cape May County specifically, not only will our customers be assured of quality products built in-house by our American employees, D-Tech is able to make a significant investment in the local area, creating new jobs for Cape May County residents, from service positions to manufacturing opportunities,"Marvin Crisp, founder and CEO of D-Tech International USA, said.
"D-Tech has expanded 100% since 2016, and therefore to meet the increased demand for our products, we will be employing from the local community."
D-Tech is joined at the Cape May Tech Village by Cellular Tracking Technologies, a wildlife telemetry and IoT solutions provider.