Bielat Santore & Company announced on Tuesday a former bank building in Asbury Park has been sold to Sackman Enterprises.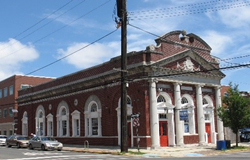 "Sackman is turning the page on restaurant uses at 649 Mattison and getting back to Asbury Park's initial intended uses" the company said in a news release.
The Allenhurst-based developer intends to convert 649 Mattinson Ave. into mixed-use office and residential spaces or all office spaces while adding a third floor to the existing two-story building. The building initially opened as the "Mattison Park Martini Bar" then turned into the "Trinity and Pope" restaurant. Other venues also housed there include the "Bank of Mattison" and "Skratch Eatery."
In 2001, Sackman first invested in Asbury Park with the purchase of the historic Steinbach building. Now, a little more than a decade later, Sackman owns multiple properties in what's considered one of the fastest growing arts and culture destinations.
Financial terms were not disclosed.